In 1876, Wade Davis & Company, the precursor to Whiting & Davis, is founded by William H. Wade, Edward P. Davis and Louis Heckman in Massachusetts.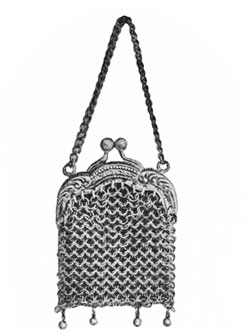 In 1892 Mr. Whiting designs the first mesh bag, with all rings formed and joined by hand. By 1912 a machine is invented to automate the mesh making process.

Charles Whiting joins the company in 1880 at age 16 and swiftly moves up the ranks to management. In 1896, he and Mr. Davis form a partnership and raise the money to purchase the company, renaming it The Whiting & Davis Company.
Whiting & Davis' beautiful, high quality purses are the coveted accessory of flappers, actresses and "well dressed women everywhere." Through automation and advertising, the company expands its reach, becoming, and remaining to this day, the world's leading mesh handbag manufacturer.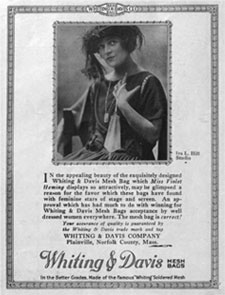 In the teens and early '20s, Whiting & Davis bags are made of small precious metal rings and are unpainted for the most part, their striking designs coming from a mixture of metal colors, artfully joined rings and metal fringe. By the end of the '20s, flat Armor mesh painted in bold Deco designs and Dresden mesh, with its tiny rings silkscreened by hand in dreamy Impressionistic shades, take center stage.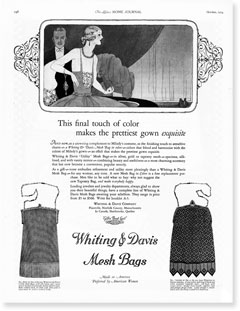 The 1930s bring high-profile collaborations with iconic designers Paul Poiret and Elsa Schiaparelli, while Whiting & Davis' famed creations continue to turn up in the hands of stage and screen actresses of the era.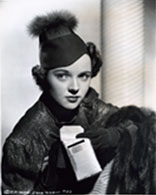 Jane Wyatt with a Whiting & Davis purse accessory.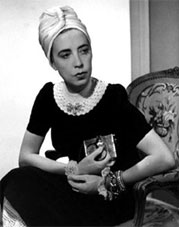 The renowned and prolific Elsa Schiaparelli designs for Whiting & Davis in the mid 30s, introducing several new, more modern shapes to the line.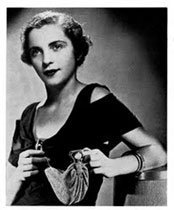 Beatrice Lille with a Whiting & Davis ring mesh purse.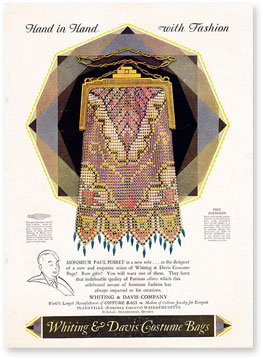 Trailblazing French designer, Paul Poiret, the first to design without rigid tailoring and corseting while also launching cosmetics, perfumes and housewares lines, collaborates with Whiting & Davis to create colorful bags with "Parisian allure."
During World War II, a shortage of raw materials leads Whiting & Davis to temporarily stop production of its metal mesh bags and turn its attention to supporting the war effort by manufacturing radar equipment. At the close of the war, the company returns to making its signature mesh handbags as well as other mesh goods.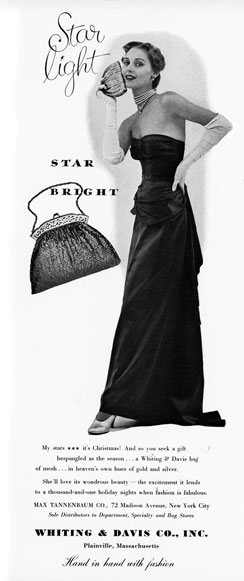 "Hand in Hand with Fashion"- A Whiting & Davis slogan of the time.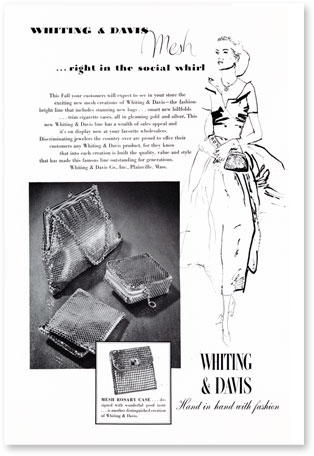 Jane Russell wears a sleek dress of Whiting & Davis mesh, weighing a purported 21 pounds, while romancing Robert Mitchum in the 1952 movie Macao.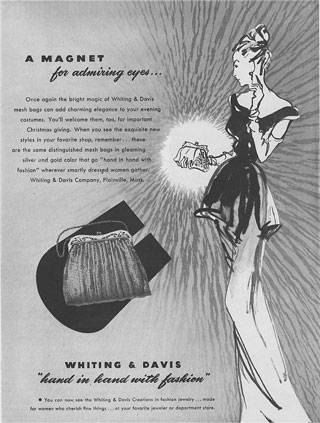 Whiting & Davis embraces the Mod Era with simpler styles and clean lines.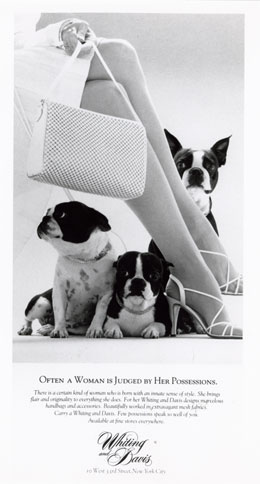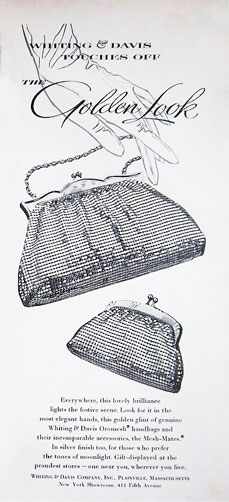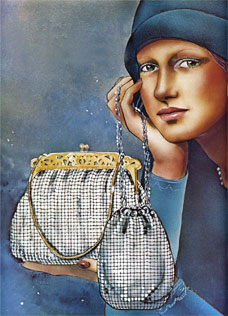 Gold Rush! Whiting's "soft, sensuous and slithery handbags," halter tops and dresses are the perfect glittering accessories for a decade spent writhing under disco balls to Donna Summer and ABBA.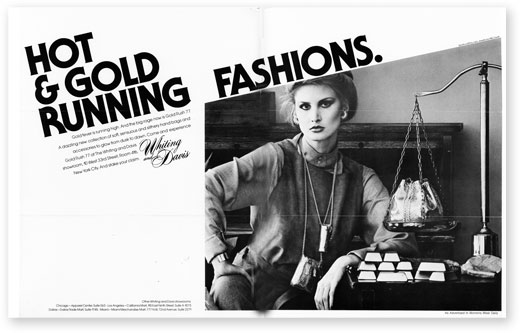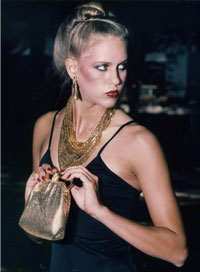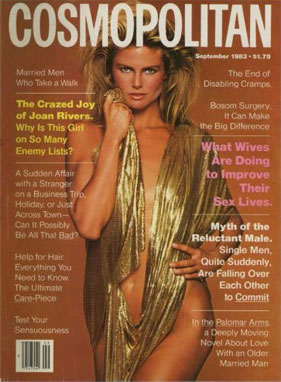 Christie Brinkley covers Cosmopolitan, September 1983 in a Whiting & Davis metal mesh dress.
The excesses of the late '70s slide right into the fashions of the '80s, with mesh accessories and apparel continuing to drape some of the most beautiful bodies of the time,  but apparently not the girl next door according to this Whiting & Davis ad featuring Frederique Van Der Wal.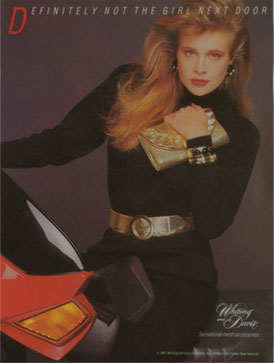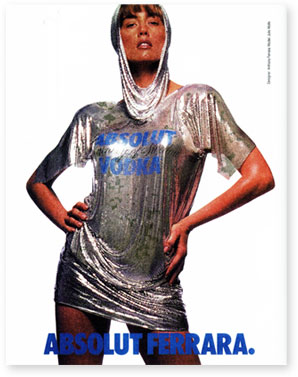 Absolut Whiting & Davis! Anthony Ferrara designs a dress using Whiting & Davis silver mesh for the iconic Absolut Vodka campaign. The cost? A very cool half million dollars.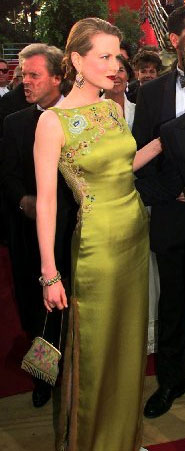 Nicole Kidman takes Oscars dressing to the next level in 1997, wearing a Dior by Galliano dress and carrying a vintage Whiting & Davis bag.
The love of Whiting & Davis handbags (new and vintage) continues today with top actresses, musicians, stylists and bloggers.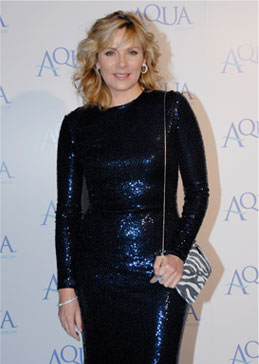 Kim Cattrall in sequins and zebra print Whiting & Davis at the height of her Sex in the City fame.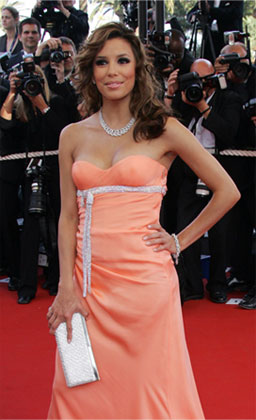 Eva Longoria carries a Whiting & Davis clutch at the 2006 Cannes Film Festival.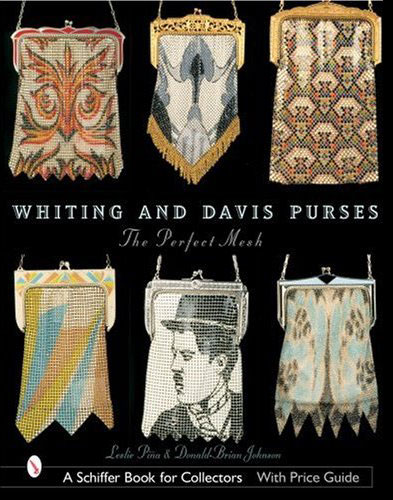 In 2002, "Whiting & Davis Purses – The Perfect Mesh", a book entirely about Whiting Davis handbags, is published.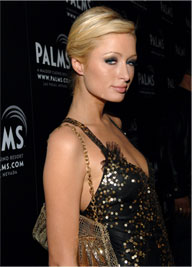 Paris Hilton wears a Whiting & Davis bag.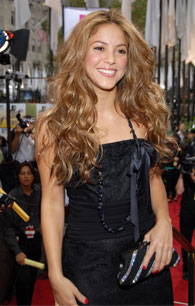 Whiting & Davis remains the recognized leader in metal mesh handbags more than 120 years after its first mesh handbag was produced and continues to attract discerning fans, including actresses, musicians (and you!), by regularly introducing new styles with an eye toward both trend and functionality.  While that first bag was simple, unpainted ring mesh, Whiting bags now come in a variety of shapes, colors and mesh styles with trims such as snakeskin, studs and SWAROVSKI ELEMENTS.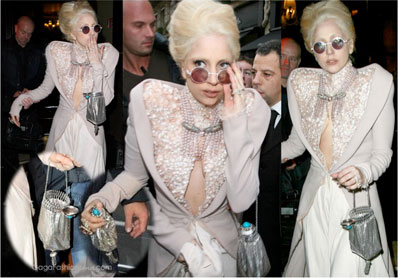 Lady Gaga incorporates a Whiting & Davis gate-top bag into one of her fabulous outfits.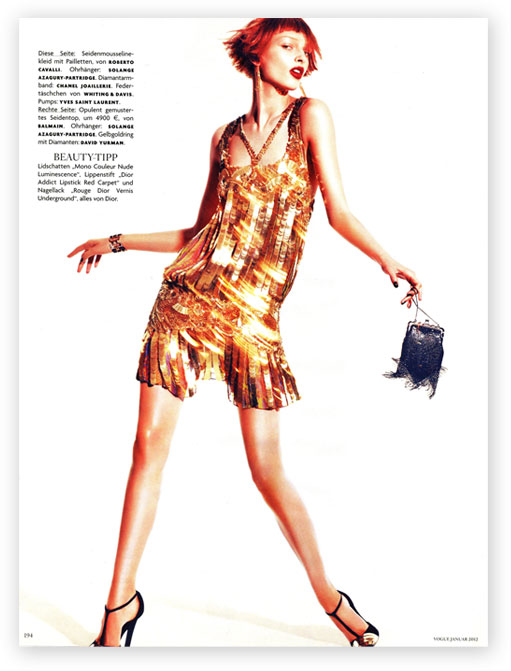 A 2012 Vogue Germany editorial featuring a Whiting & Davis fringed bag.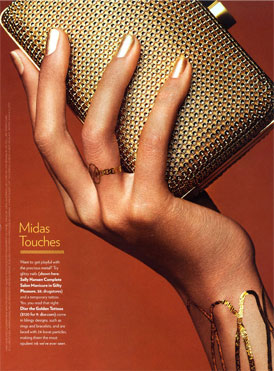 A Whiting & Davis dimple mesh minaudiere in Shape, December 2012.